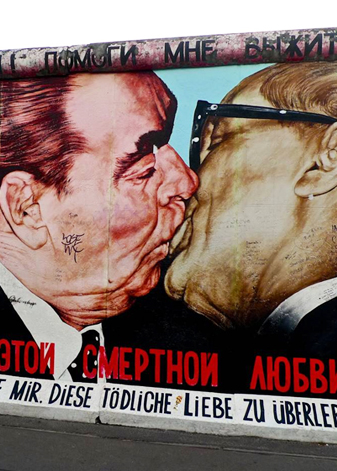 STAY
I stayed at Hotel De Rome because the location was ideal with surrounding historic buildings and I love Rocco Forte properties. Set in Berlin's former Dresdner bank, the hotel has been beautifully furnished by Tommaso Ziffer in shades of grey and black with accents of red. They offer a lavish spread for breakfast and the former bank vault is now a fabulous spa to retire to at the end of the day.
 
DO
The East Side Gallery is one of the most visited landmarks in Berlin because it is a memorial for freedom containing the last remaining section of the Berlin Wall. The site is the longest and largest open air art gallery in the world consisting of 105 paintings by artists from all over the world. I wanted to see Dmitri Vrubel's "My God, Help Me to Survive This Deadly Love" based on a famous photo of Leonid Brezhnev and Erich Honecker kissing each other. Seeing The Wall and all the murals depicting images of freedom made me realize how lucky I am to be living my life the way I want.
 
EAT
Walking into Berlin's hottest restaurant Pauly Saal, a former Jewish girls' school, is like passing through history from the 1920's bar lounge to the elegant dining room that used to be the school's gymnasium. On the opposite side of the restaurant is a Kosher Deli. The main dining room has a more contemporary feel with four gorgeous Murano chandeliers from Pauly et Cie (hence the name) and a gigantic rocket hanging over the open window to the kitchen.
 
MUST SEE
The Boros Bunker. The bunker has been used for many purposes. It was originally built as air raid shelter against Allied bombing during World War II, then for fruit storage in the 50s, then in the early 90s for techno-rave parties and today as contemporary art gallery and private residence. A part of the private collection belongs to advertising entrepreneur Christian Boros and his wife Karen.On display currently are installations by Ai Wei Wei, Klara Liden, Michael Sailstorfer and photographs by Wolfgang Tillmans and Thomas Ruff.
 
WHAT I LOVED MOST
Ever since the Wall came down in 1989, I have been itching to see Berlin. Over the past ten years the city has generated a lot of buzz in the fashion industry with the help of Bread and Butter, a trade fair featuring contemporary clothing and accessory brands from all over the world. I would definitely return to Berlin, because there is so much more than meets the eye.